Paleo f(x) in one word: awesome. Two words: SO awesome.
Austin is so pretty.


And there are fun signs like this:

The Whole Foods is HUGE. Look at all this outdoor seating!

Before I say anything else, I have to confess – I didn't take enough photos.
I mean I actually didn't, I'm not saying that in a sarcastic way. Most of my photos are of the panels…or food.
Enough small talk, let's get into the good stuff. There was SO MUCH good information all weekend. Honestly, the biggest struggle about attending Paleo f(x) is deciding which sessions to go to because there are so many good ones going on all the time. I can't wait to watch the ones I missed once they're available on video.
The best thing about Paleo f(x) though (on top of all of the info) was being around other people who share the same drive to get healthier, who appreciate real food, and who will be in when you say hey, wanna go to a float tank? It's awesome. I don't know about you guys, but most people around me, except for at the gym, are not paleo, and don't care that much about their health. I know that's generalizing, but you know what I mean. In most situations, people kind of look at the paleo person as the odd one one, with weird dietary restrictions and crazy nutrition talk. But at Paleo f(x), we're all paleo nerds.
(Side note: I'll do a separate post on the ridiculously good food in Austin. This will just focus on the knowledge dropped at the conference. It has already taken me long enough to write this…Also, my (new-ish) computer keeps "correcting" things that don't need to be corrected…)
Carbohydrate Cycling for Health, Performance and Longevity – D.H. Kiefer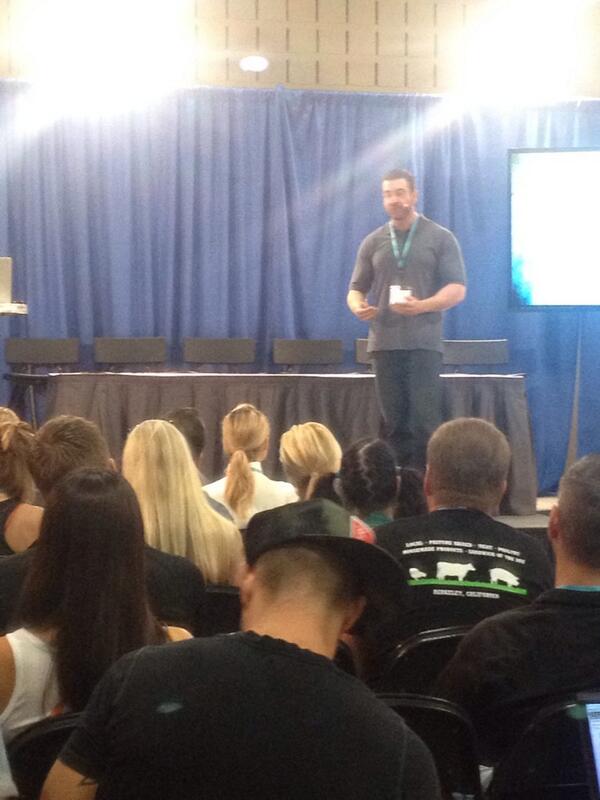 I had heard of carb cycling before, but not about carb nite. (It seemed to be a hot topic this year.) If you're interested in carb nite, check out the Health Nuts Anonymous podcast with Kiefer (on iTunes).
Favorite quote: "Body fat is not good in a survival situation…" "…you're just going to be a tastier snack."
Knowledge gems: "Even if you work out in the morning, save your carbohydrates for the evening" and maybe introduce coconut oil after workout.
One simple rule-eat your carbohydrates in the evening. The trick becomes when to do that…once a week is what most ppl need.
Hacking Stress (Under Pressure) – A Jolly, Ben Greenfield, Dr. Nora Gedgaudas, Sara Eye, Evan Brand
I loved this panel. If you follow me on Twitter, you might have seen a bunch of tweets about float tanks. Thank you, hacking stress panel. (Stay tuned for a post on my float tank experience(s) in a few days after I float again.)


Favorite moment: What do you think of the statement I can't deal with stress? "It's bullshit." "Excuses are bullshit." – Sara Eye
Knowledge gems: Can't meditate for 30 seconds? Might be stressed…
"I want you to try your next workout just breathing through your nose." – Ben Greenfield
For long term, one of the lowest cost things you can do: meditation.
How to Win an Argument with a Paleo Critic – Chris Kresser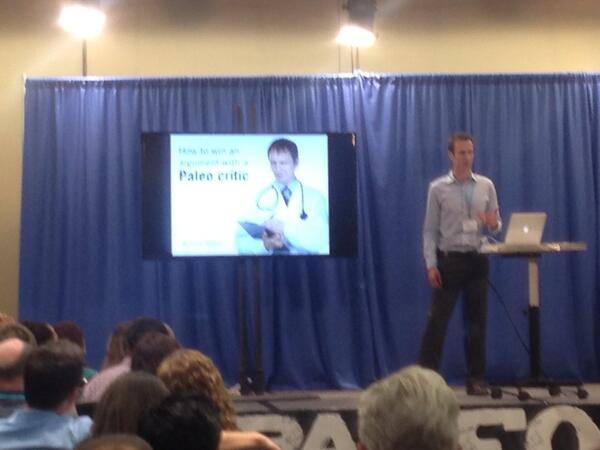 I love Chris Kresser. His points were: don't be a jerk, acknowledge what's true about the critique, and admit the things we've been wrong about. Then he gave strategies for dealing with each type of criticism.
Knowledge gems: (When people say the average caveman only lived 30 years, or whatever:) The average lifespan does not tell the full story.
A typical paleo diet meets or exceeds the % RDA.
There is nothing in grains we can't get from #paleo foods in a more bioavailable way.
Favorite quote: "I consider coffee to be mostly a cream vehicle."
Stress and Cravings: Why Changing Your Food Isn't Enough – Melissa Hartwig of Whole 9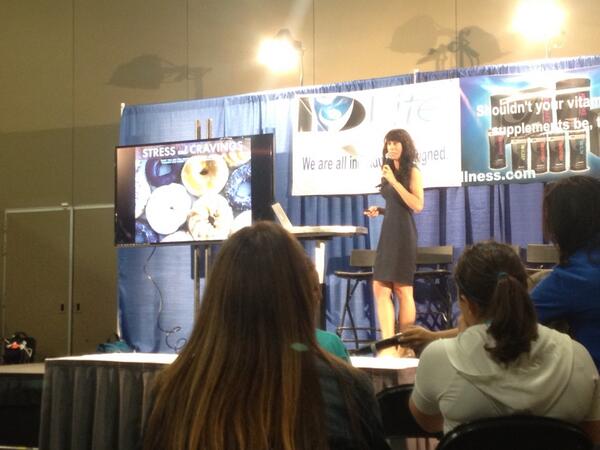 First, I love how both Hartwigs were dressed up for their panels – so cute. I think they kind of matched too? Paleo power couple. Love it.
So I wasn't drooling over the donuts in this photo, but I've never really liked donuts anyway. If it was a photo of chocolate though…well. This presentation was pretty awesome and made me really think, uh, yeah, this whole stress thing is way bigger than I thought before. Check out this link for more tips.
Knowledge gems: The only way you get from diet to cravings is stress.
It's kinda like you're encountering a bear 17 times a day and sometimes for 3-4 hours. (on stress)
If you believe a stressful thought, you've just created stress.
Stress, not diet, makes you crave.
Under chronic stress, you need to take intensity out of the picture. (This came up in several panels over the weekend…it's like a sign.)
I wanted a little break from all the panels and I really love Nom Nom Paleo, so I went to the cooking demo: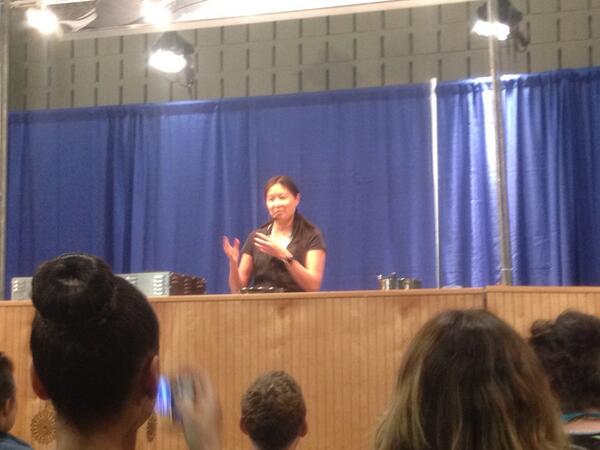 I love her. We laughed so much and the lazy deviled eggs seem so easy. (The recipe is in the cookbook, which I somehow do not own yet. YET. I will get it.)
Sleep and Performance Optimization – Dr. Kirk Parsley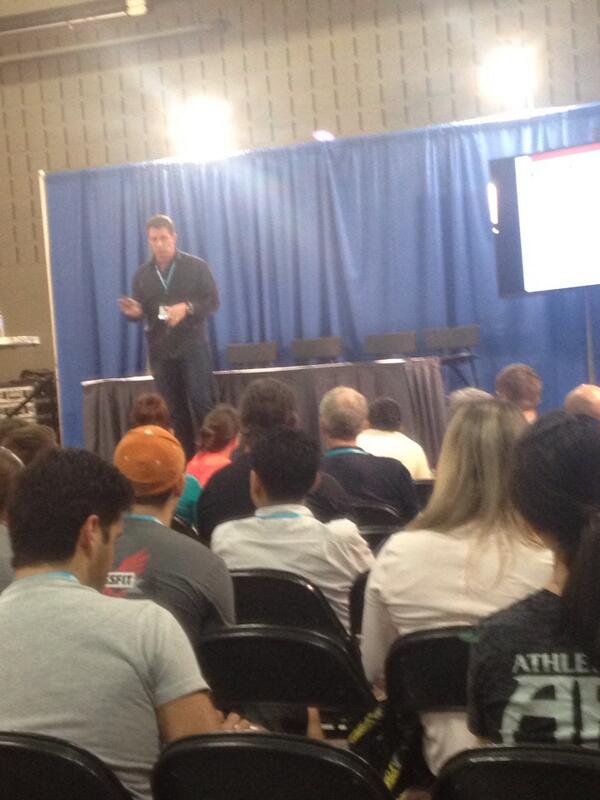 I found this whole presentation pretty fascinating and I wish I had taken more notes or tweeted more. I'm definitely watching this one again…There's a short YouTube video from Dr. Parsley here and he's been on Robb Wolf's podcast. (Dr. Parsley is one of my favorite #pfx14 discoveries actually.)
Knowledge gems: During fight or flight, your immune system is at a high level for only a short time. (I always got sick after final exams! Pretty much every single year.)

I ended the day with the best-named panel: Fairies, Unicorns and Paleo Cookies – Steven Wright, Dallas Hartwig, Sara Eye, Bill Staley, Juli Bauer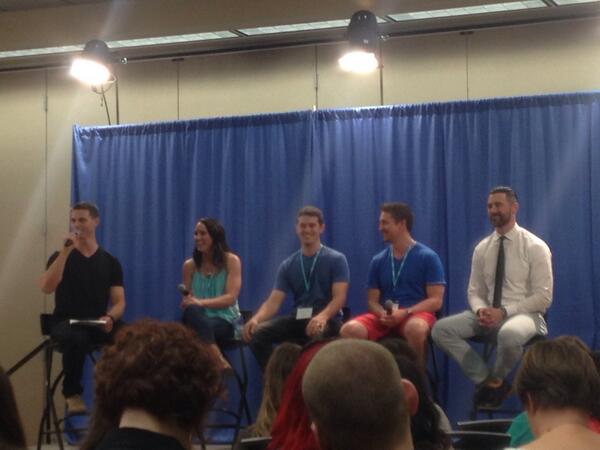 Knowledge gems: What if everybody doesn't want to get healthy?" If people don't want to go deeper? (Steven Wright)
Eating anything that you can eat that wont kill you, that's paleo. – Dallas Hartwig
People need to reprioritize their time to be able to make real food. – Dallas Hartwig

And with that, day one was over. Warning – day two might have been my favorite. Maybe because I was already paleo nerd-ed out after day one and more excited for day two, or maybe because I had a front row seat at the Victory Belt stage, or maybe the good night of sleep, but anyway…
Ask the Paleo Experts (Mastermind Panel) – Dr. Terry Wahls, Dr. Kirk Parsley, Chris Kresser, Dallas Hartwig, Nora Gedgaudas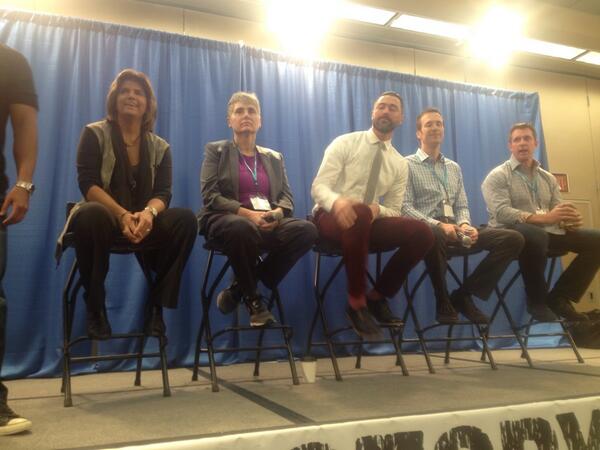 This panel was awesome and there were a lot of good questions posed to them. There was a lot of talk about food sensitivities.
Knowledge gems: We see more issues with nightshades, dairy and eggs than with nuts and seeds. – Kresser
If you're seeing fat changes in a day or two, that's inflammation…if it's over a few weeks, inflammation and cortisol. – Dr. Parsley
The only dairy that doesn't have potential immune reactivity is camel milk. – Dr. G (Where can I get camel milk???)
US Healthcare: In Crisis or Chaos? – Robb Wolf, Charles Mayfield, Dr. Richard Maurer, Darryl Edwards, Dr. Grayson Wheatley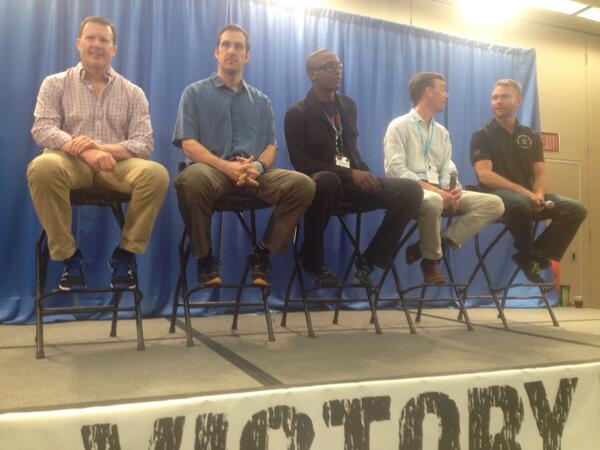 Knowledge gems: Sitting is the new smoking. – Darryl Edwards (who was injured when leading one of his play sessions on Friday, and had a firsthand glimpse into the ridiculousness of our healthcare system)
The e-patient movement is coming where all patients will own their own medical records. – Dr. Wheatley (This makes SO much sense to me. I don't understand why this didn't happen 10 years ago.)
Eating Disorder: When Paleo Doesn't Work – Amy Kubal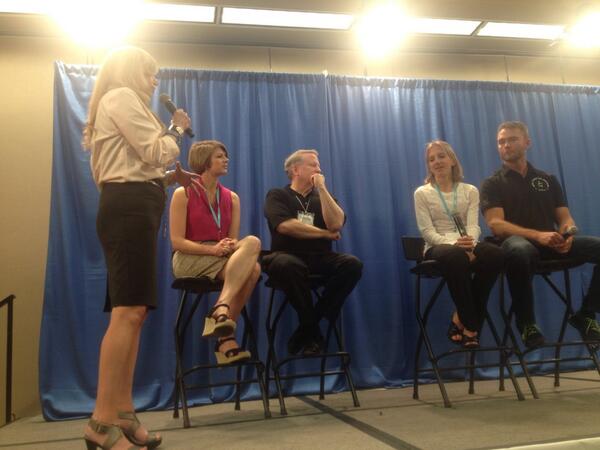 This was one of the most personal, most inspiring panels…well, impromptu panel. Amy started by telling her story, Robb Wolf joined, then Dr. Tyson Dr. Amy Myers, and Michelle Norris. I give so much credit to Amy Kubal here – it takes so much guts to get up and tell your story like that, to be so vulnerable (plus on stage with everyone staring at you). You can read Amy's post about it (from earlier this year) here. Anyway, thank you to Amy for sharing her story.
Knowledge gems: Vitamin F = food, fat, friends, feelings
Food is a gift…food is not evil…we make it evil with the thoughts around it…
If your mind is not healthy and your body is, it's still not ok…
Moving Past the Mirror and Scale – Dr.Edward Tyson, Ellen Rozman, Kaila Prins, Amy Kubal, Molly Galbraith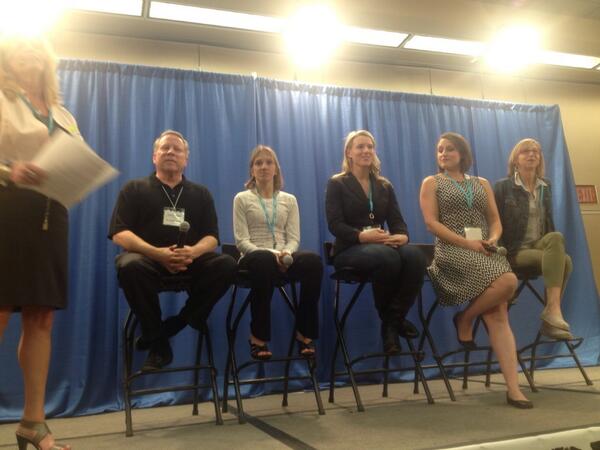 This might have been one of my favorite panels; I think this topic is pretty much always relevant for women everywhere. We all judge ourselves (and each other) constantly, and there's so much unhappiness because of it. We really need to stop. This is also where I learned about Molly Galbraith's Love Your Body Challenge – go check it out (and join me). This panel was awesome also because it's easy to identify with very specific things mentioned.
Knowledge gems: When life becomes unmanageable and unbearable, when food becomes fear, when exercise becomes a chore…that's when you know you need to seek help. – Prins
There are no prescriptions, only just a template you need to seek guidance. – Prins
A seven year old shouldn't be thinking they're fat. – Galbraith
…When it starts to take over and it becomes the only thing… …When your fitness and nutrition become your identity… – Prins
Be grateful and know that it's ok to not be perfect.
Favorite quote: "If there's something in your life that's missing, you're going to cling to whatever you're doing well." – Rozman
Paleo and Addiction – Karly Randolph Pitman, Kaila Prins, Susan McCauley, Amy Kubal, Dr. Nicole Avena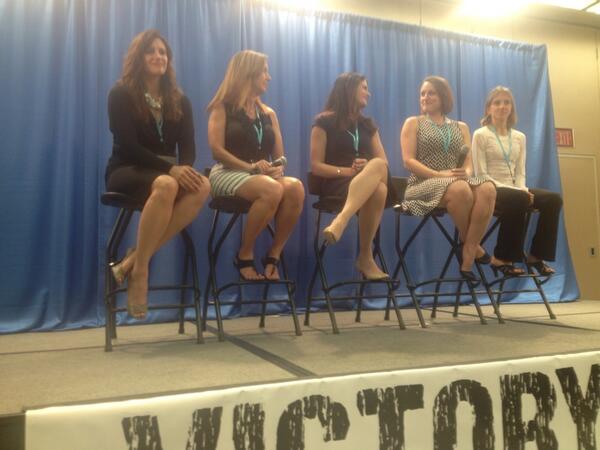 Another pretty inspiring panel, and you'll see some familiar faces.
Knowledge gems: Whatever the type of addiction, it's not a sentence, it's a propensity…Being at a higher risk doesn't mean it's a destiny. – Dr. Avena
It's that rock bottom moment of this is not working…it never brings what you're seeking…there is no rest, it never works, it never satiates… – Prins
This isn't a dress rehearsal, this is life. – Dr. Avena
Favorite quotes: It's the hiding that allows us to perpetuate the myth… [that there's shame in asking for help] – Prins
"You can start your day over at any moment. – McCauley
Living a Happy, Intentional Life – Michelle Norris, Darryl Edwards, Dean Dwyer, Hilary Bromberg, Dr. Nicole Avena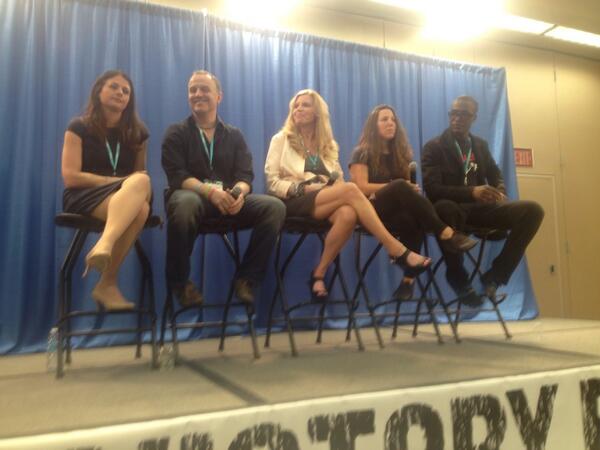 I wasn't really sure what this panel was going to be about – I mean, happiness is interesting, but what does living an intentional life really mean? I wasn't sure at first…
Knowledge gems:
We're really walking around not reaching our peak. – Bromberg
The constant seeking and searching for betterment does not lead to happiness. – Edwards (who is super cool, by the way)
What could you do if you had no limits? Take off those imposed limits on yourself… – Norris
Favorite quotes:
We're in this state of emotional obesity…fake smiles, fake happiness, but we're depressed. – Bromberg
Fulfillment is the uptime pathway to happiness. – Norris
The Robb & Mark Show – Robb Wolf, Mark Sisson, moderated by Abel James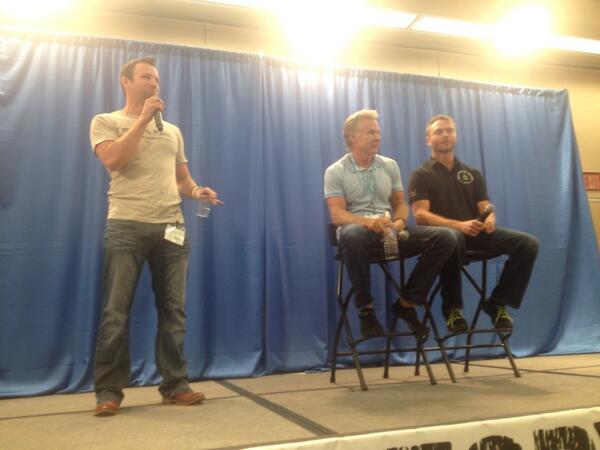 Sorry, guys, I didn't take any notes for this – it was all Q&A and the room was packed, and I was busy running the mic around to everyone. (So many questions!) It was an awesome session though! (Watch it when it's online!)
And then it was Sunday. 😦 Confession – I may have gone out Saturday night, and so I may have really wanted to get out of bed for some of the 8:30 a.m. panels, and the 9 a.m. presentation by Dr. Parsley…but I did not make it. This is my only regret of the weekend. But I can catch up on all the info soon. 🙂
Psychology of Change – Dr. Shauna Young, Kyle Maynard, Molly Galbraith, Dr. Nicole Avena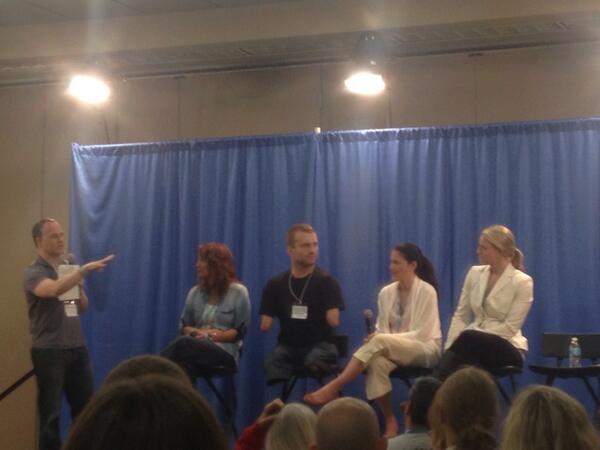 Knowledge gems: So many people are oversight and unhappy because they're unhappy on the inside. – Galbraith
You're perfect as you are right now, and you could use a little work. – Galbraith
People often forget that addiction is an extreme form of learning. – Dr. Avena
We're all capable of things that would blow you away. – Maynard
If you want to do something epic with your life…you gotta get over that mentality that it's going to happen overnight. – Maynard
Be ruthless with yourself and be truthful about it. – Young
Favorite quote: You're either successful, or you fail and you learn. – Galbraith
Beyond Food – Dr. Daniel Stickler, Kyle Maynard, Steve Kirsch, Kendall Kendrick, Darryl Edwards, moderated by Tony Federico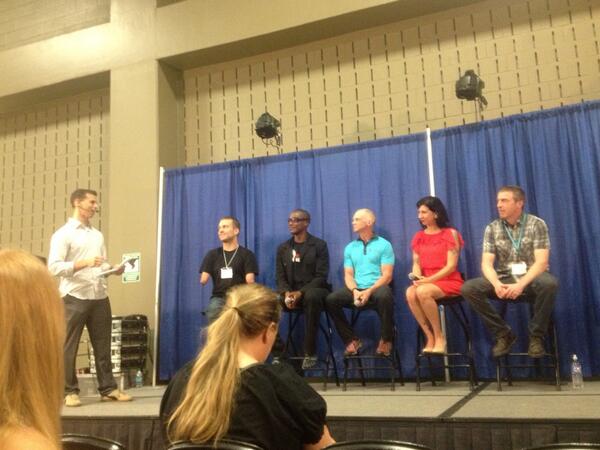 Knowledge gems: What we do today in the conventional sense of fitness is really body image. – Edwards
It's important to find a way to get yourself unstressed before eating. – Kendrick
Also check out Steve's follow up blog post.

Perception is Reality: The Biggest Lie in the Fitness Industry – Jim Laird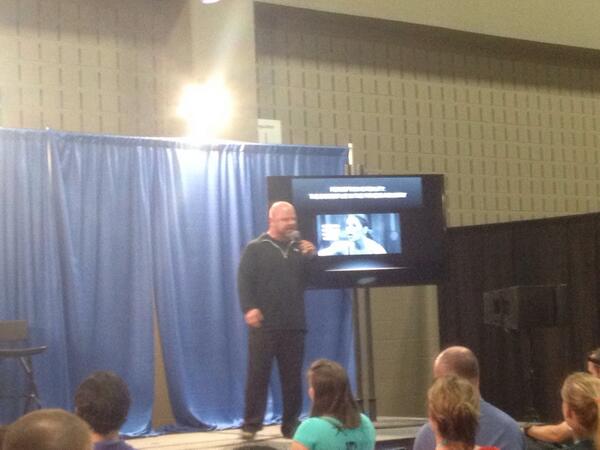 A lot of this talk was about how intensity is not the answer. (We shouldn't be beating ourselves into the ground every day during heavy/long metcons.)  People always think more is the answer. (I'll admit to thinking this. One more workout. One more run.) Jim showed us photos of Eric from the MTV Real World/Road Rules Challenges (you can read his story here) – and he accomplished a pretty significant transformation with just walking a few times a week and some strength sessions. (AKA no 45 minute long ridiculous met cons every day.)
Knowledge gem: If you don't move during the day, you can't make up for that with training.
Overall favorite quote of the weekend though: You can't fix a body you hate. – Jason Seib
And I definitely agree with this:
Biggest take-home message from @PaleoFX: STRESS matters. #itsnotjustaboutfood #paleo

— Stupid Easy Paleo (@stupideasypaleo) April 15, 2014

So, Paleo f(x) was awesome, inspiring, and gave a few pretty big revelations (mostly around stress, body image, and not needing to be perfect and strict all of the time). I learned a lot, had some awesome weekend roommates, and met some awesome paleo people and vendors. I can't wait until the next one – hey, Denver! If you ever get the chance to go to Paleo f(x), to volunteer, or even to just attend the expo, GO. Do it. Just trust me. You're welcome.
There were some awesome vendors on site, and I bought (a few) gifts: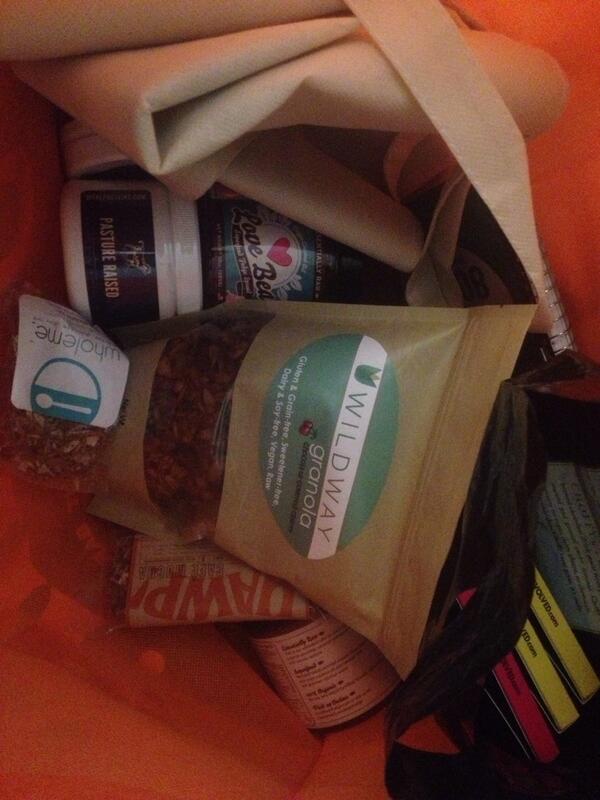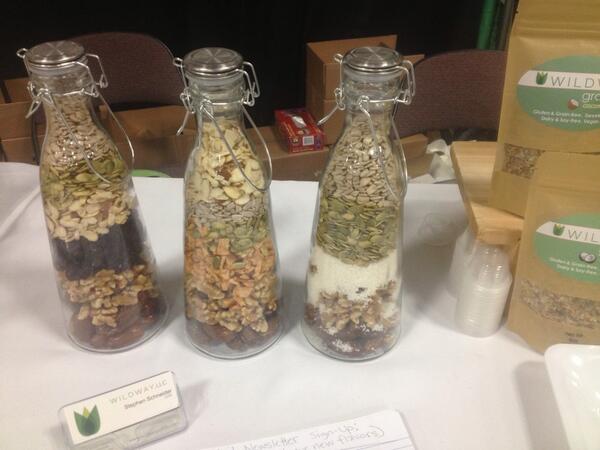 Wildway had a super cool way to show their granola.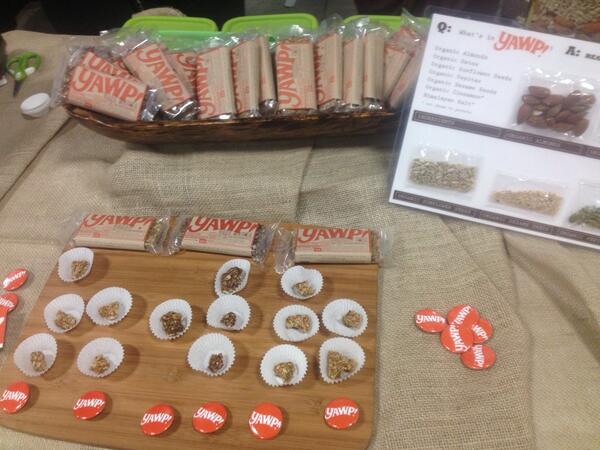 YAWP bars are so crunchy and good.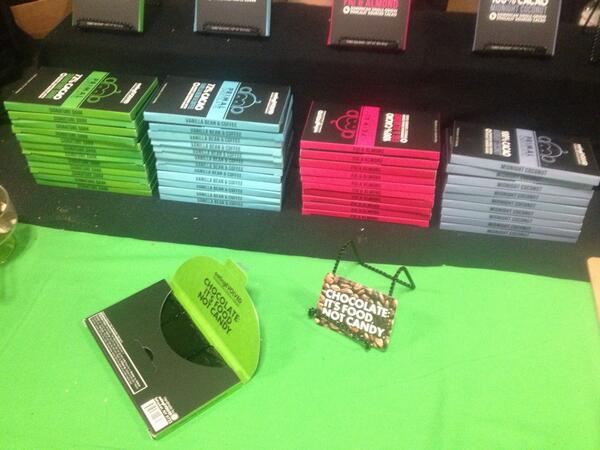 Eating Evolved chocolate is still delicious…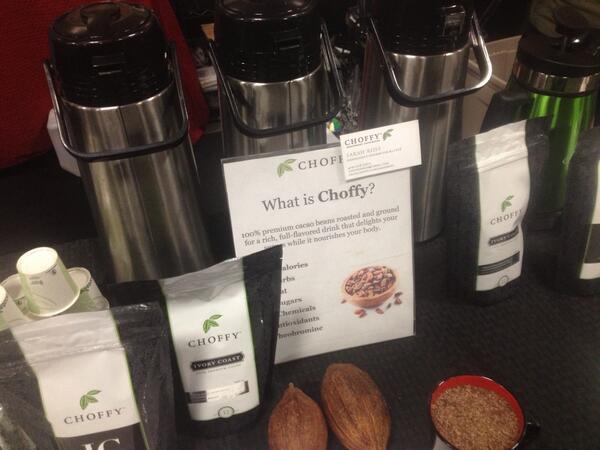 I even tried and liked Choffy – and I don't like coffee.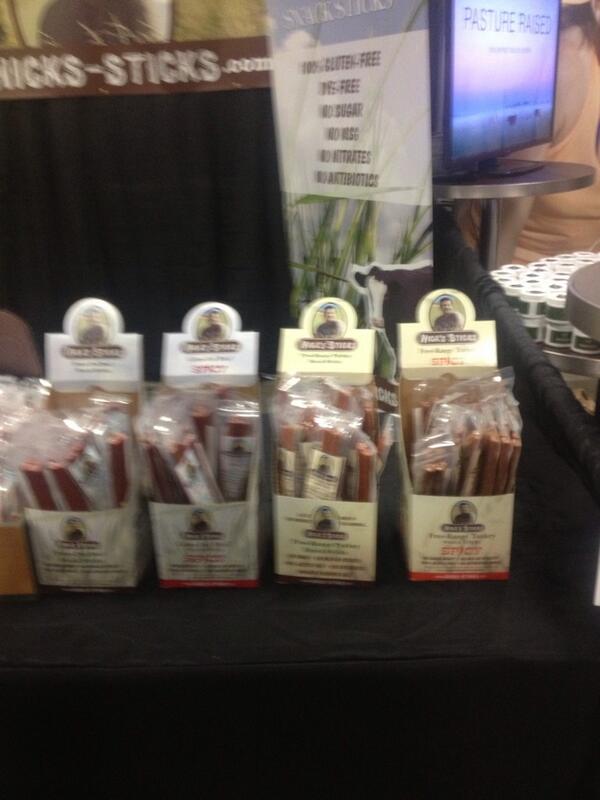 Nick's Sticks was giving away jerky sticks!
Check out this compilation of some discount codes for Paleo f(x) attendees.
Also check out #pfx14 recap posts from:
Miss Skinny Genes
The Paleo Drummer
DC Healthy Bites
The Mindful Caveman
If you've read all of this, you probably deserve some sort of award…favorite reader? I'll come up with a fun title.