I'm not going to lie, I was not happy about pull ups in 14.2. I mean, they were coming sooner or later, yeah, but I thought it would be later?
Fat CrossFitter summed up exactly how I felt about it in this post:
Yes, OF COURSE they have to weed people out. Guess what—a workout that everybody can do WILL STILL WEED THOSE OF US WHO ARE NOT COMPETITIVE OUT. Seven minutes of burpees? Sure, I can do it, but I'm gonna get a quarter of what Camille gets. LOOK AT ME, WEEDED OUT, but I still feel like I got my money's worth because I DID THE WOD.
So yeah, I have been trying to work on pull ups but I am nowhere near getting one yet. My overhead squats are not fantastic either – my max was 85 a few months ago, but certainly not for 10 in a row.
I tried to convince some guy friends to watch the open announcement. Same thinking as:
I think watching Camille could be enough to convert some CF male haters to watch.. http://t.co/RkE946FAlt

— Jennifer (@winetoweights) March 7, 2014
It's funny because when I started CrossFit, I kept thinking –  why do people use athletes' first names like they know the athletes? But now I'm doing it. I love Camille. She's so pretty and so ridiculous at pull ups. I also love Stacie Tovar and she's on 14.3 next week.
There was a lot of good advice out there on 14.2, but I really liked this:
Do what you can do, safely and enthusiastically. That's all you should be asking from yourself anyway. And then… http://t.co/NGMbMCL91R

— Lisbeth Darsh (@lisbethdarsh) March 7, 2014
I get the point of the Open, but if you can't do it (as in like nowhere near doing it, not just somewhat close), SCALE. How is that hard? For 14.1, I knew I had some double unders, just not consecutive so I wouldn't be fast, so I didn't scale. For 14.2, yeah, I could have gotten 10 overhead squats at 65, but then I would have just hung on the pull up bar for the rest of the time. Maybe 10 reps is fine for some people – if that's what you're going for, to rx no matter what. But I wanted a workout – and it helped me set a goal for next year. (I want pull ups by next year's open. No more scaling pull ups. At least regular pull ups!)
So, I scaled the weight to 45# and used a band for pull ups – but it was a smaller band than I usually use! (Actually, I've gone down twice now in the last week, I was using blue + red before, then just blue, now two reds..which maybe is the same as blue? I'm not sure. Either way, I pushed harder than I had before.)
I thought the pull ups would be the tough part, but really it was the second set of overhead squats. It was like suddenly the bar was 40# heavier? And suddenly I had no core strength or stability. Plus, overhead squats have never been easy for me, so there's that too.
Look at me, there I go, squatting away:

Did anyone else feel like the squats were slow motion? Mine felt SO SLOW but I felt like if I tried to go faster, I'd fall over, or the bar would just drop on my  head, or who knows. Also, I don't (usually) enjoy photos of myself working out but luckily you can't see my face in this one, because I always make faces. So, whew.
I got through the first round (2 sets of 10) and part of the way through the second, for a total of 65. Yeah, 65. That's all I have to say about that.
BUT some girls at my gym and twitter friends got pull ups (and multiple!) – so that is AWESOME! Congrats, ladies! And a lot of people (gym and twitter again) did OHS for the first time, or OHS at that weight for the first time. So 14.2 did involve a lot of wins, which is what the Open is about, right? (I just typed wine instead of wins – it should involve wine too, I say.)
This guy from Dynasty CrossFit killed it, this is the round of 18, and isn't the crowd awesome?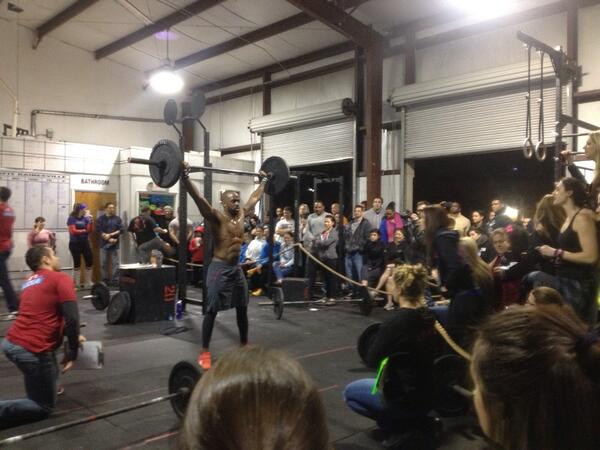 I tried to take a panoramic photo but for some reason I just can't do it right. I really wanted to show you guys how awesome my gym is…but it didn't work out:


The arrow just never stays on the stupid little line. Or it does but then my phone only shows the first half of the picture. I don't know, I guess taking panoramic shots is just not one of my skills. Another thing to work on?
Lastly, I think we all deserve to see this:
When do we get to see Dave take on Glassman head to head at an announcement? #CrossFitGames

— Mikey Louis (@WorstManXFit) March 7, 2014
Anyone else with me? The Boz/McKernan showdowns sounded awesome too.